This month marks the one year anniversary for Cayman Healthcare Consulting. Launched in 2016, owner Barrie Quappe knew that she needed to get up and running quickly, with all branding and marketing ready to roll on day one. Working on tight deadlines, Gavin Consulting moved quickly to lay out a strategic plan for the marketing launch of Cayman Healthcare Consulting.
Gavin Consulting delivered:
A branded website with relevant content that reflected the expertise of the owner and adequately established trust and authority for the Cayman healthcare industry.
Content & Social media marketing
Branded collateral – business cards, flyers, banners
Launch event to introduce CHCC to the Cayman professional community
Ongoing content/email marketing support to help CHCC super-serve its client & subscriber base.
---
Don't take our word for it. Here's a recent Q&A with Barrie Quappe on her experience with Gavin Consulting.
Q: Give us a one-minute history of your business.
A: CHCC opened in early 2016 and had a very tight opening timeline. With Gavin Consulting's holistic approach to getting our name out in the healthcare field in Cayman, we held a major opening event by the end of March/first of April. All of it quickly made us the known go-to source for health care facilities and their practitioners to help with their government healthcare requirements.
Q: How did you get involved with Gavin Consulting? What was the reason that you chose Gavin Consulting?
A: Gavin Smith was previously known as a committed professional. That coupled with his recent work demonstrated someone who could deliver our imaging in our tight time frame and it would be impressive – not 'cheap' or tacky. Plus, through watching the growth, expertise and philanthropic approach of the owner of Gavin Consulting for both business clients and nonprofits alike, we knew we would get the same caring and supportive professional work, delivered in a very timely fashion.
Q: Was price more important than delivery, service, and quality?
A: Price was crucial due to fact that CHCC was a new launch. However, so were our deadlines, excellent service and the great first impression we needed to make. They were all important and once our needs were assessed, GC delivered.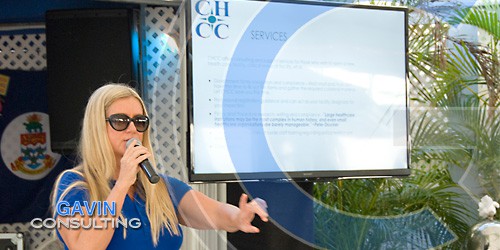 Q: Tell us what your experience has been with our products/services?
A: Timely, dedicated and informative feedback has built a trust that can only help this mutually beneficial business relationship grow. That and frank discussions on ideas and product going forward. Very resourceful!
Q: Can you think of a word or phrase that best describes your relationship with Gavin Consulting? Why that particular word or phrase?
A: Powerful. Delivery, timeliness and frank discussions provide us with the supportive marketing service we really need as a new business.
Q: Have you had our competitors knock on your door? If so, what did you tell them?
A: Yes, and all I said was I have someone who really works for me right now.
Q: Why would you recommend Gavin Consulting to someone else?
A: For the same result I have received, delivered on time, within your desired budget – plus they answer follow-up questions in a timely fashion.
Q: If someone called you and said "Why should I do business with Gavin Consulting", what would you tell them?
A: Why do this on your own? Hire a true expert who is up on the latest and won't up-charge you because he could. Don't waste time and money – just ask Gavin Consulting to help you meet and even plan your goals.
We help many businesses of all sizes with a variety of marketing and management needs. We are particularly proud, however, when given the opportunity to help launch a newly minted business in a community. Congratulations, Barrie and Cayman Healthcare Consulting on a successful first year in business. Here's to many more!