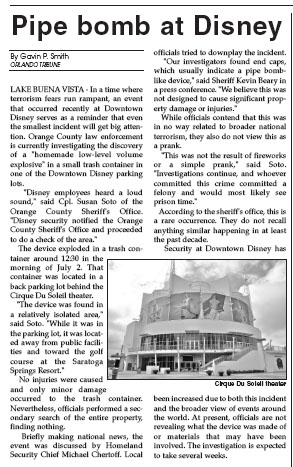 Prank or serious incident?
ORANGE COUNTY – In a time where terrorism fears run rampant, an event that occurred recently at Downtown Disney serves as a reminder that even the smallest incident will get big attention. Orlando County law enforcement is currently investigating the discovery of a "homemade low-level volume explosive" in a small trash container in one of the Downtown Disney parking lots.
"Disney employees heard a loud sound," said Cpl. Susan Soto of the Orlando County Sheriff's Department. "Disney security notified the Orange County Sheriff's Office and proceeded to do a check of the area."
The device exploded at around 12:30 in the morning of July 2nd in a trash container. That container was located in a back parking lot behind the Cirque Du Soleil theater.
"The device was found in a relatively isolated area," said Soto. "While it was in the parking lot, it was located away from public facilities and toward the golf course at the Saratoga Springs Resort."
No injuries were caused and only minor damage occurred to the trash container. Nevertheless, officials performed a secondary search of the entire property, finding nothing.
Briefly making national news, the event was discussed by Homeland Security Chief Michael Chertoff. Local officials tried to downplay the incident.
"Our investigators found end caps, which usually indicate a pipe-bomblike device," said Sheriff Kevin Beary in a press conference. "We believe this was not designed to cause significant property damage or injuries."
While officials contend that this was in no way related to broader national terrorism, they also do not view this as a simple prank.
"This was not the result of fireworks or a simple prank," said Soto. "Investigations continue, and whoever committed this crime committed a felony, and would most likely see prison time."
According to the department, this is a rare occurrence. They do not recall anything similar happening for at least the past decade.
Security at Downtown Disney has been increased both due to the incident and the broader view of events around the world, not to mention the recent Fourth of July holiday.
At present, officials are not revealing what the device was made of, or materials that may have been involved. The investigation is expected to take several weeks.