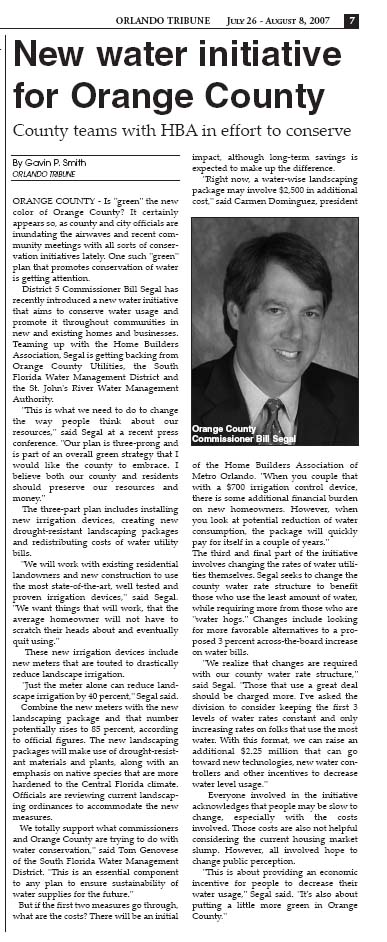 County Teams With HBA In Effort To Conserve
ORANGE COUNTY – Is "green" becoming the new color of Orange County? It certainly appears so, as county and city officials are inundating the airwaves and recent community meetings with all sorts of conservation initiatives lately. One such "green" plan that promotes conservation of water is getting attention.
District 5 Commissioner Bill Segal has recently introduced a new water initiative that aims to conserve water usage and promote it throughout communities in new and existing homes and businesses. Teaming up with the Home Builders Association, Commissioner Segal is getting backing from Orange County Utilities, the South Florida Water Management District, and the St. John's River Water Management Authority.
"This is what we need to do to change the way people think about our resources," said Commissioner Segal at a recent press conference. "Our plan is three-prong and is part of an overall green strategy that I would like the county to embrace. I believe both our county and residents should preserve our resources and money."
The three-part plan includes installing new irrigation devices, creating new drought-resistant landscaping packages, and redistributing costs of water utility bills.
"We will work with existing residential landowners and new construction to use the most state of the art, well-tested and proven irrigation devices," said Commissioner Segal. "We want things that will work, that the average homeowner will not have to scratch their heads about and eventually quit using."
These new irrigation devices include new meters which are touted to drastically reduce landscape irrigation.
"Just the meter alone can reduce landscape irrigation by 40%," said Commissioner Segal.
Combine the new meters with the new landscaping package, and that number potentially rises to 85% according to official figures. The new landscaping packages will make use of drought-resistant materials and plants, along with an emphasis on native species that are more hardened to the Central Florida climate. Officials are reviewing current landscaping ordinances to accommodate the new measures.
We totally support what commissioner and Orange County are trying to do with water conservation," said Tom Genovese of the South Florida Water Management District. "This is an essential component to any plan to ensure sustainability of water supplies for the future."
But if the first two measures go through, what are the costs? There will be an initial impact, although long-term savings is expected to make up the difference.
"Right now, a water-wise landscaping package may involve $2,500 in additional cost," said Carmen Dominguez, President of the Home Builders Association of Metro Orlando. "When you couple that with a $700 irrigation control device, there is some additional financial burden on new homeowners. However, when you look at potential reduction of water consumption, the package will quickly pay for itself in a couple of years."
The third and final part of the initiative involves changing the rates of water utilities themselves. Commissioner Segal seeks to change the county water rate structure to benefit those who use the least amount of water, while requiring more from those who are 'water hogs'. Changes include looking for more favorable alternatives to a proposed 3% across-the-board increase on water bills.
"We realize that changes are required with our county water rate structure," said Commissioner Segal.
"Those that use a great deal should be charged more. I've asked the division to consider keeping the first 3 levels of water rates constant and only increasing rates on folks that use the most water. With this format, we can raise an additional $2.25 million that can go toward new technologies, new water controllers and other incentives to decrease water level usage."
Everyone involved in the initiative acknowledges that people may be slow to change, especially with the costs involved. Those costs are also not helpful considering the current housing market slump. However, all involve hope to change public perception.
"This is about providing an economic incentive for people to decrease their water usage," said Commissioner Segal.
"It's also about putting a little more green in Orange County."