One big downtown mess…but is there hope?
ORANGE COUNTY – If you're an everyday traveler of I-4, the 408, or streets in the downtown area, you are well aware of all of the constant construction going on.  No doubt, the city is undergoing growth.  As a result of higher volumes of traffic in the area, large-scale projects are now underway.  This includes the most noticeable work taking place on I-4 at Anderson Street.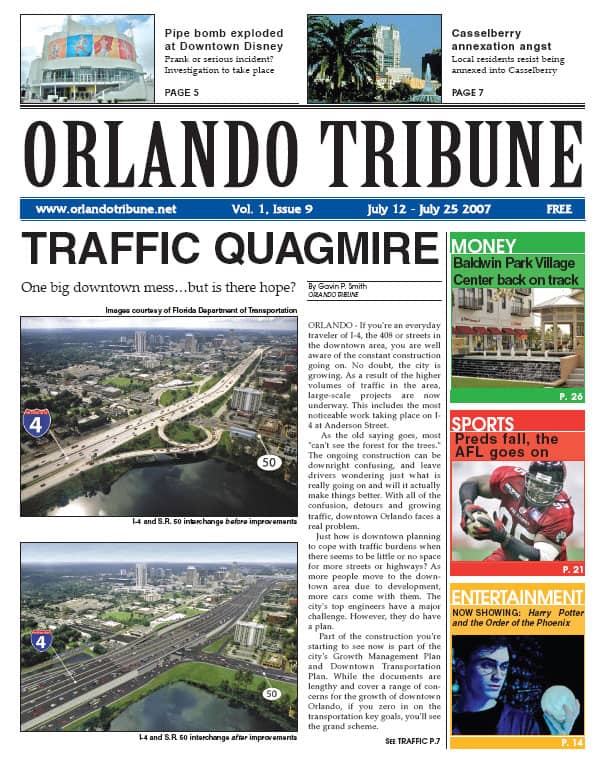 As the old saying goes, most "can't see the forest for the trees". All of the construction can be downright confusing, and leave drivers wondering just what is really going on, and will it actually make things better. With all of the confusion, detours, and growing traffic, downtown Orlando faces a real problem.
Just how is downtown planning to cope with downtown traffic burdens when there seems to be little or no more space for more streets or highways? As more people move to downtown due to development, more cars come with them. The city's top engineers have a major challenge. However, they do have a plan.
Part of the construction you're starting to see now is part of the city's Growth Management Plan and Downtown Transportation Plan. While the documents are lengthy and cover a range of concerns for the growth of downtown Orlando, if you zero in on the transportation key goals, you'll see the grand scheme.
First, officials are trying to figure out enhancements to the city streets, public transit, pedestrian alternatives and traffic management programs. Street changes will include extensions and conversions to two-way traffic, which will help create a loop around downtown. Also, extra pedestrian signals and bike lanes are sought. From extra awnings on businesses to make pedestrian traffic more pleasant, to covered bike stops with racks to encourage cycling, changes are in the air to promote alternatives to vehicles. In fact, there will be ten times the current amount of crosswalk signals added over the next year. Street signals will be managed to optimize traffic flows and wait times, to keep traffic moving efficiently. Officials hope to also cut down on single-occupant vehicles, pushing new carpool initiatives.
Second, there is a need to keep up with new development. That means more access and more parking. Many wonder how this will come into play when the new downtown venues are approved. According to Heather Allebaugh, Constituent Correspondent for the Orlando City Mayor's Office, the new venues will make little impact.
"The Florida Citrus Bowl Stadium exists and the planned renovation does not appreciably change the number of seats, so stadium event traffic after renovation would likely be similar to the current situation," said Allebaugh. "For large events at the stadium, buses now shuttle between downtown parking garages and the stadium, offering an alternative to parking adjacent to the stadium."

According to plans, Lymmo transit would be extended from downtown to the stadium along the Church Street/Central Boulevard corridor. Officials contend this will allow more use of downtown parking and reduce vehicles in the immediate stadium area for events. Plans to reverse this system to offer parking at the stadium lots for those visiting downtown are also in the works.
As for the Bob Carr Performing Arts Center and Amway Arena, parking conditions may actually improve. There are plans for 4,000-5,000 more parking spaces in addition to those that exist at Amway Arena. As well, an additional 3,700 to 4,900 spaces are planned to accommodate the new Performing Arts center.
"Plans expect both existing venues to be retired, creating a shift in event related traffic, but not necessarily more event related traffic," said Allebaugh. "Both new sites are within 2-3 blocks of a planned commuter rail station."
While ideal in sound, there is no guarantee that the planned commuter rail will go forward. As previously reported, current budget concerns could see cuts in some programs including public transportation and the commuter rail in order to accommodate lower property tax revenues and higher budgets for law enforcement and corrections facilities.
"Traffic studies will be conducted for both sites during venue design to better determine traffic effects and any modifications needed," said Allebaugh.
In fact, according to The Downtown Transportation Plan and Community Venues Master Plan, both look to new roadway access near the venues, including extensions of Boone Avenue and Terry Avenue to the South and the re-opening of the Magnolia/Orange Avenue intersection to improve overall traffic flow downtown. As well, the new venues should have better access to both I-4 and SR408 when current road construction is finished.
While all of these measures are helpful, traffic is on the rise at a steady rate for commuters as well as downtown residents. On an average day, almost a half million commuter trips are made. Within the next 15 to 20 years, they expect that to increase by roughly 30%.
Officials will have to work together with other agencies to make sure they are in lockstep with growth. Ideally, planners hope to shift traffic from vehicles to multiple alternatives to increase access and decrease the bottleneck.
That just leaves two questions. What's the cost of all of this and where will the money come from? As we're all aware, with budget cuts and recent cuts in revenue, money is becoming increasingly harder to find.