Gavin P. Smith
The Griffin Report
The New Year may not be a happy one for many Florida petroleum businesses thanks to sweeping new regulations put in place by the Florida Department of Environmental Protection. The new laws require all businesses with single-walled USTs and ASTs (underground storage tanks and above ground storage tanks) to upgrade to new double-walled tanks by December 31st, 2009. Those that have yet to heed the warnings may be in big trouble with the State of Florida, or may even find themselves out of business.
According to the Florida DEP, there are only a small percentage of locations that have yet to comply. However, for that percentage, the deadline is daunting. Just how many tanks have to be replaced? According to the Florida Department of Environmental Protection, there are over 26,500 underground fuel storage tanks and over 700 above ground fuel storage tanks that have yet to be replaced in Florida. Keeping in mind that most operators have multiple tanks, a better assessment is made of the overall progress of the operators themselves.
"Facilities with Underground Storage Tanks (USTs) that require upgrade is 1,345, or 15 percent, of the 8,785 UST facilities," said Marguerite Jordan, Public Information Officer for the Florida Department of Environmental Protection. "Facilities with Aboveground Storage Tanks (ASTs) that require upgrade is 332, or less than 3 percent, of the 11,227 AST facilities."
While the benefits of the new double-walled systems are debatable, the new law is not. According to Jordan, retail facilities such as gas stations and convenience stores that have not met the deadline at the end of the year face three available options. First, if businesses have a contract in place to have the upgrade work performed, they will be granted a 3-month extension beyond the deadline. Second, operators may remain in business after the deadline if non-compliant tanks are taken out of service or permanently closed. Third, if businesses need more time to have the upgrades done, they can work with the Department to enter into a consent order designed to achieve compliance within a specified period.
This may be a relatively painless fix for larger gas station companies and conglomerates that have easier access to capital and contractors ready to do the work. The concern, however, is with smaller, independent operators. Many small petroleum businesses cannot get the work done in time, facing long waits for permits and the lack of available contractors that specialize in tank installation. For those struggling to find the money during the current economic climate, these costly new upgrades may simply drive many small operators out of business.
"The average cost (of the upgrade) is around $250 thousand dollars per site," said Jim Smith, President and CEO of the Florida Petroleum Marketers and Convenience Store Association. "The biggest difficulty for those still needing to upgrade is financing. Loans are non-existent. There is also the problem of permitting. In South Florida it can take more than 6 months."
Jordan agrees with Smith's financial read.
"The primary reason that causes a delay that has been conveyed to the Department is the inability to secure financing due to current financial markets," said Jordan.
Upgrading the tanks may come with a hefty price tag for operators. But according to the Florida DEP, not upgrading the tanks may be more costly to Florida's environment and to its citizens. Officials insist that the new double-walled systems will catch leaks before they can contaminate surrounding soil and groundwater.
"The secondary containment requirement for all petroleum storage systems improves the protection of our water resources and prevents future petroleum contamination cleanup sites," said Jordan.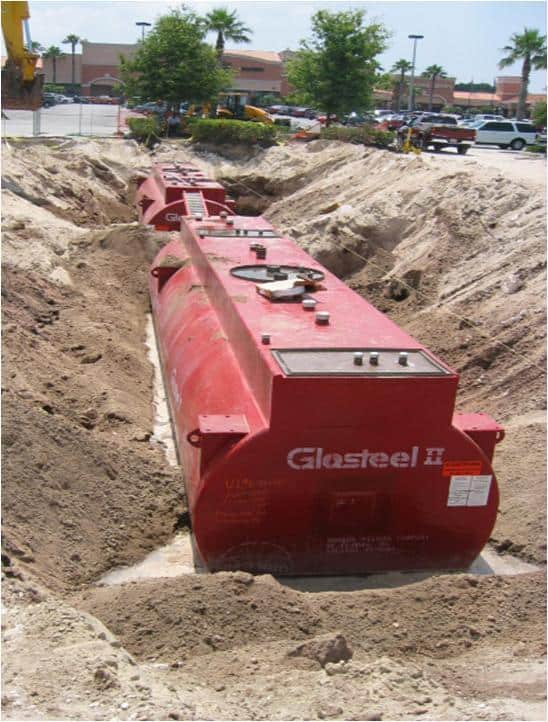 Officials also argue that, according to environmental studies, the current single-wall systems pose public health and environmental risks due to an increased likelihood of leakage. They argue that there is a significant risk that leaks could affect the state's drinking water supplies. According to the DEP, groundwater provides more than 90 percent of the drinking water in the state of Florida.
Many in the petroleum industry disagree, including Smith. Some think there may be a more political than practical purpose for the new laws.
"I can tell you that as an industry we have seen a significant number of single wall fiberglass clad steel tanks that were in the same shape at removal as they were in their initial installation," said Smith. "Those tanks should have been allowed to go to a useful life situation but Florida law does not permit such an option."
In fact, the new law allows for punitive efforts by the state if operators do not conform.
"Fines or penalties will be assessed for each facility depending on that facility's specific situation," said Jordan. "A facility that does not complete the upgrade and ceases fueling operations on or before the deadline will likely not be fined. A facility that refuses upgrade and does not cease operations will face fines levied by the courts."
When asked about specific amounts for fines, the DEP remained non-specific.
"The Department may seek injunctive relief to require tank closure, as well as the assessment of penalties," said Jordan.
While legal concerns are an issue, the immediate business impact on operators may be more significant.
"As it stands right now if you have a contract in place for tank replacement you will be allowed to operate until installation," said Smith. "If you have no contract you will be required to immediately take your tanks out of service. That last scenario will no doubt cause a number of facilities to go out of business. My guess would be 10% of the states retail facilities, or about 900 sites, will meet that fate."
But according to Smith, the consumer may also feel the changes.
"I have always believed that when you eliminate competition in any marketplace the consumer generally loses," said Smith. "Bottom line is we won't really know the full impact until April."
PDF_Gavin P Smith-The Griffin Report-Florida Tanks-CoverStory-Jan2010