Gavin P. Smith – The Griffin Report
In the music world, the word "godfather" might lead you to think of the late James Brown. In film, you may picture Marlon Brando. However, in the rapidly emerging niche of Cuban cuisine, there is a new godfather of "Nuevo Latino Cuisine", Chef Doug Rodriguez. Rodriguez is making a big splash by tapping into a mystique that Americans have been in love with for decades. The result is an explosion of Cuban dishes, flavors and fine dining concepts onto the restaurant scene.
Regardless of whether you call it mystique, or taboo, Rodriguez is serving up what Americans cannot typically get – 'all things Cuban'.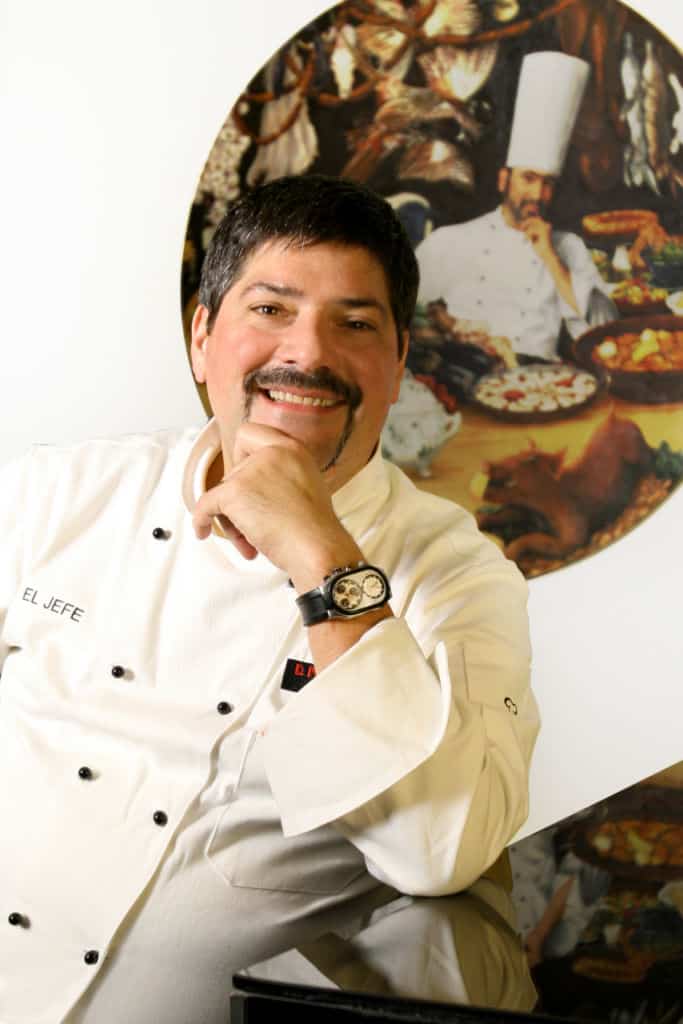 "Cuba is somewhat taboo, but I think that's part of the allure," said Rodriguez. "People always want what they can't have."
Chef Rodriguez delivers with his Nuevo Latino Cuisine. What is it? To find out, you have to take a closer look at this master chef. A James Beard award winner, successful author and Bravo Top Chef Master, Rodriguez is bringing new legitimacy, authenticity and status to Cuban cuisine in the United States. Rodriguez taps into traditional Cuban cooking, including family roots recipes, and adds his own "Nuevo" twist.
Rodriguez is quickly adding to his reputation with recent launches of new Cuban cuisine restaurants, including D. Rodriguez Cuba and Ola in Miami Beach, Alma de Cuba in Philadelphia and DeSeo in Scottsdale, Arizona. Chef Rodriguez is making Cuban cuisine hip and chic while maintaining traditional roots and creating one of a kind dining experiences.
The Miami location of D. Rodriguez Cuba is an inviting space that taps into the 'Miami experience', according to Chef Rodriguez.
"I say experience, because it's not only about amazing food, it's the cocktails, the atmosphere, the music as well," said Rodriguez. "You can't leave Miami without enjoying a real Cuban meal."
The restaurant, located inside an art deco hotel in South Beach, includes a lush patio with glowing lanterns hung low from banana palms.
"At D. Rodriguez Cuba we serve up the flavor of Havana," said Rodriguez. "We have really gotten back to the true roots of Cuban culture, and we incorporate a twist of that South Beach glam."
Other properties from Chef Rodriguez include Alma de Cuba in Philadelphia, serving a blend of upscale authentic Cuban and Nuevo Latino in a modern, city-chic environment. OLA is Nuevo Latino, with a heavy focus on ceviche items. DeSeo, located in a resort property in Scottsdale, is also ceviche oriented.
Undoubtedly, Chef Rodriguez is on to something. Like every good entrepreneur, he has taken something from his own repertoire of knowledge and experience, carved out an underserved niche and exploited it effectively. The macro market is also growing at a good clip, due both to the continued growth of the Hispanic population and further cultural integration. With his fine dining ventures, Rodriguez positions himself ahead of the wave. It is only a matter of time before access to Cuba by Americans becomes reality and Rodriguez may be poised to ride the flood of 'all things Cuban' entering the American market.
"I think Latin American cuisine has most certainly been underappreciated and overlooked," said Rodriguez. "It's an undiscovered cuisine in many respects. Most people consider Latin food to fall under the "plastic tablecloth" umbrella, not fine dining."
A key to his approach is the conscious re-branding of Cuban cuisine toward upscale dining.
"I think Cuban cuisine will remain more regional and exclusive," said Rodriguez. "Each market is different. In Miami, for instance, even with its huge Cuban population, there was a serious lack of upscale Cuban cuisine in the area."
While Rodriguez targets the fine dining approach, he does not lose sight of the key ingredient, his Cuban roots.
"To me, it's my soul food – it's comforting and reminds me of my upbringing," said Rodriguez. "There's a lot of passion that goes into the creation of Cuban cuisine, and I think that's part of the draw."
That passion comes from family tradition and culture, from learning family recipes from his mother as a child to holding a sacred connection to the raw ingredients from Latin America.
Family traditions are crucial," said Rodriguez. "In fact, I still use a lot of my mother's recipes to this day. Of course, I have upgraded the ingredients and put an innovative twist on them, but the foundation of many of my Cuban dishes come straight from mom's kitchen. My black beans, for instance, are a family recipe, and I use only Spanish extra virgin olive oil to make them. The shrimp enchilado, which is a huge hit at D. Rodriguez Cuba, is another family recipe, and I use cachuacha peppers – the traditional way."
Traditional Cuban cuisine also draws on a certain diversity and inventiveness, which fits nicely with the ongoing diversification of the population in Miami and throughout the United States. The historical collisions of Spanish, African and Caribbean traditions yielded a wide array of ingredients blended into a unique and characteristic cuisine. With little to no access to new ideas and outside influences under the Castro regime, Cuban cuisine may be one of the few truly original cuisines left 'untouched' in the world today.
Yet, thanks to those like Chef Rodriguez, Cuban cuisine is finding new exposure, breaking the confines of its national borders. As well, Rodriguez heartily encourages others to help expand the popularity of fine Cuban cuisine.
"If you know Cuban cuisine, and can do it very well, it's not hard to break in," said Rodriguez. "A word of advice – read a lot, research Cuban roots, practice."
The success of Chef Rodriguez comes down to the fundamentals of any successful dining venture.
"Cuban cuisine is well received, if you can offer the whole package: great food made with top-notch ingredients, imaginative presentation, and excellent service," said Rodriguez.  "People will always come back for that."