New housing program to slow resident migration out of Orange County
ORANGE COUNTY – Despite the downturn in property values all across the Southeast and much of the United States, there is a growing concern that affordable housing units are also on a sharp decline, especially in Orange County. While downtown housing and towers skyrocket, and urban homeowners continue under the delusion that they can still get high prices for their properties, residents are moving further and further outside of the area in order to take advantage of any price breaks and maintain a decent standard of living.
At least, that's the argument that proponents of more affordable housing will tell you. But in reality, just how bad is it? According to some officials, it's a disaster waiting to happen. But ask some citizens, and they'll tell you right away that more housing is not the answer. Lower prices are.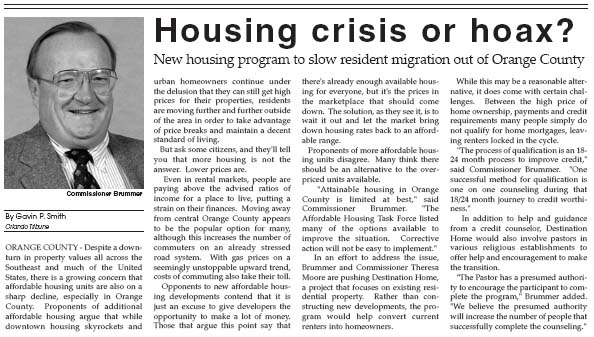 Even in rental markets, people are paying above the advised ratios of income for a place to live, putting a strain on their finances. Moving away from central Orange County appears to many as the popular option, although this increases the number of commuters on an already stressed road system. Plus, with gas prices on a seemingly unstoppable upward trend, costs of commuting in terms of gas and time also take their toll.
Opponents to new affordable housing developments contend that it is just an excuse to give developers more opportunities to make a lot of money. Those that argue this point say that there's already enough available housing for everyone, but it's the prices in the marketplace that should come down. The solution, as they see it, is to wait it out and let the market bring down housing rates back to an affordable range.
Proponents of more affordable housing units disagree. Many think there should be an alternative to the overpriced units that are out there. There's just one problem – while there are those that agree with providing more affordable housing, most don't want those lower income housing units built next to them.
"Attainable housing in Orange County is limited at best," said Commissioner Brummer. "The Affordable Housing Task Force listed many of the options available to improve the situation. Corrective action will not be easy to implement."
What's the answer? Perhaps a third alternative offered by two county commissioners. Commissioner Fred Brummer of Orange County, in conjunction with Commissioner Theresa Moore, are pushing what they call "Destination Home". The project, an effort to deal with attainable housing, focuses on existing residential property. Instead of constructing new developments, the focus is directed at converting current renters into home owners.
While this may be a reasonable alternative, it does come with certain challenges. Between the high price of home ownership, payments and credit qualifications, many people simply do not qualify for home mortgages, keeping renters locked into the renting cycle. However, Destination Home intends to aid in this problem.
"The process of qualification is an 18-24 month process to improve credit," said Commissioner Brummer. "One successful method for qualification is one on one counseling during that 18/24 month journey to credit worthiness."
In addition to help and guidance from a credit counselor, Destination Home would also involve pastors in various religious establishments to offer help and encouragement to make the transition.
"The Pastor has a presumed authority to encourage the participant to complete the program," said Commissioner Brummer. "We believe the presumed authority will increase the number of people that successfully complete the counseling."
While both sides debate the issue of more housing, Destination Home does offer a compromise.
Regardless of the argument, one conclusion is certain. If a viable solution is not found, people will continue to migrate away from Orange County to adjacent areas that are less expensive. As a result, that may indeed be the real crisis on the horizon for Orange County.