The following was written for the William & Mary Mason School of Business MBA news blog by Gavin P. Smith – November, 2012:
---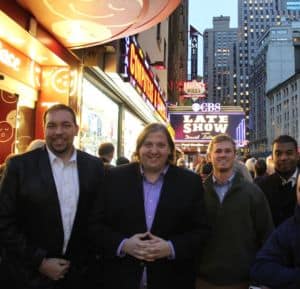 The second year of the Mason School of Business MBA experience is really where you can begin to branch out from the grueling fundamentals of business and begin to explore key areas of interest for your future. The Mason School accommodates this by allowing each student to pick their own Career Acceleration Modules in the fall semester of their second year. Each student gets to pick two of these modules in disciplines ranging from corporate financial markets to entrepreneurship. One of the newer and fascinating offerings is the Real Estate Entrepreneurship CAM with Dr. Ben Bolger.
Having entrepreneurship in the title prompts you instantly to think about 1) creativity, 2) finding new ways to serve a customer or need and 3) developing a high tolerance for ambiguity. At the highest levels of today's fast paced real estate world, those three differentiators can make or break you as a global world developer. No laboratory for such activity is more fitting than Manhattan, New York.
Last week, our group of 20+ professionals embarked on a wall-to-wall experience of learning and exploring in NYC. Students left on a Monday night at 11pm on a bus bound for Gotham. Arriving around 6am on Tuesday morning, there was no waste of time to get started in our experience. The first stop was 8am at a massive development in West New York along the Hudson named Port Imperial. Our host was Marshall Tycher, the head of Roseland Properties (a Mack-Cali Company). For those familiar with Sterling Manor and High Street developments in Williamsburg, this is the same firm. Marshall gave us a detailed overview, presentation and tour of the many properties that make up this multi-billion dollar development project. The views of the Manhattan skyline are nothing short of perfect. For a quick glimpse, check out http://www.riversedgepi.com. There are both luxury apartments and condos on site, as well as various amenities, restaurants and other mixed-use facilities. It is also ideally situated next to the Port Imperial water taxi docks, allowing for a quick 8-minute commute across the Hudson into the city. Riding a water taxi, with views of the ever-evolving Manhattan skyline and the Space Shuttle Enterprise on the deck of the U.S.S. Intrepid, is not a bad way to head to work each morning!
After a quick lunch and a few minutes at our upper west side hotel, we quickly shifted gears and made our way to Columbus Circle at the edge of Central Park. Our afternoon would be spent on the 19th floor of the Time Warner Center in the boardroom of Related Urban. Related is a multi-billion dollar international developer with a well-established global reputation. They actually closed on a major skyscraper deal for Abu Dhabi while we were in their boardroom. Nice timing! With expert guidance and insights from President and CEO Ken Himmel (a William & Mary alum), we were given exclusive presentations and confidential financial documents to review. These documents featured financial breakdowns for both the new Abu Dhabi development and one of their current major Manhattan projects, a new Hudson Yards development. The Hudson Yards project will consist of creating a new mixed use area above the old railroad yard, erecting a number of skyscrapers and other infrastructure to create a new community in and of itself.
That evening, a few select students continued to spend time with Mr. Himmel as his guests for dinner. We dined in the famed Porter House Restaurant on the 4th floor of the Time Warner Center. With a table view overlooking Columbus Circle and Central Park, we discussed real estate, development and changing trends, as well as how we saw ourselves fitting into the industry. The prime rib was not bad either!
Day two was packed with even more activities. In the morning, we returned to the Time Warner Center for a more in depth look at Related projects. This included presentations from Ken Himmel and other associates, including deep dives into the financials on their two biggest projects with Gopal Rajegowda, Vice President of Development for Related. In the early afternoon, Donald Curtis, Senior Vice President of Related Urban, took the group on a detailed tour of the mixed-use retail and mechanical areas of the Time Warner Building. This included a quick tour of Jazz @ Lincoln Center, where we enjoyed a view of Central Park from the stage in the Allen Room (where Ellen DeGeneres and Anderson Cooper have produced their TV shows).
Once the tour concluded late that afternoon, students had the opportunity to take advantage of free time to explore the city. A few students took advantage and went to the Metropolitan Opera. I personally used the evening to take full advantage of this MBA Experience by adding a bit of culture to my trip. First stop was the Majestic Theatre for the Broadway production of Phantom of the Opera. It was, in a word, outstanding. Afterwards, we made our way just down the street to the Birdland Jazz Club, a club opened in 1949 and named after a famous jazz musician Charlie Parker. Just in time for the late night show, we caught a true jazz legend by accident. Pharoah Sanders, a legend who used to play tenor sax with John Coltrane in the 1960s, was on stage performing with his quartet. This was the taste of the city I had longed for prior to the trip. Afterwards, we met Sanders backstage and stuck around for cocktails with the other band members. They shared stories, and pictures, of their recent world tours from Japan to Belgrade and beyond. It was a rare treat! High on life, it was a late night getting back to the hotel. I was tired, but the experience was well worth it.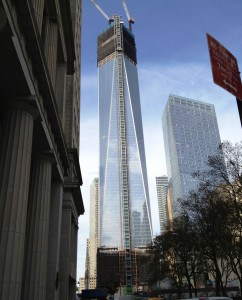 Our last day started with a morning visit to the 9/11 Memorial in Manhattan. The rebuilding of the World Trade Center has become one of the most complex redevelopment projects in the world. It is a combination of rebirth and of sacred remembrance. After spending time at this solemn location, students grabbed lunch on their own and made their way down to the Ed Sullivan Theatre to catch a taping of The Late Show with David Letterman. Although I have worked in media for years, including being around a lot of backstage activities, the one thing I had yet to experience was a TV show taping. We had great seats and guests included Zooey Deschanel, Lisa Lampanelli and musician Donald Fagen of Steely Dan. The CBS Orchestra with Paul Shaffer was extremely talented. If you watch the show, you only catch short clips of their music. They truly showcased their talent during the breaks when they played full songs and sets.
Afterwards, we all made our way back to the hotel to change once more into formal dinner attire for our last stop of the trip. The early evening included exclusive tours of all of the major university or college clubs near Grand Central Terminal. This include inside peeks at Harvard, Yale, Cornell, Princeton and other high profile clubs. We then concluded the evening by taking in a prestigious dinner at the Harvard Club of New York City (founded in 1865). It is one of the top private clubs in the world, and the interior design and appointments speak for themselves. Many notable dignitaries have dined where we dined that evening. You could sense it.
At dinner, we spoke about and reflected on some of the big takeaways from our Manhattan real estate adventure. They include the following:
Location is King, but Timing is Queen – You must have both to maximize potential return.
The devil is in the details – Financial planning, due diligence and assessments are critical and go through a series of complex iterations over years to culminate. Even the smallest errors can result in a multi-million dollar hit.
Successful vertical retailing is about properly programmed space – It is much harder to get shoppers and traffic to move vertically through space than horizontally. From the simplest concept of picking the right anchor business to restaurant placement and more complex use of space to channel visitors can make the difference between high and low retail volumes.
"View corridors" create memorable vignettes in the mind of the consumer and create a stand-out appeal.
Sense of place or location is critical, and can be created even if it does not currently exist. Port Imperial did not exist a few years ago. Barges were sunk and fill was placed to create a new strip of riverfront. Now, it is a community. Hudson Yards is still a collection of train tracks, for now. Soon, it will become the new cultural hub of the lower east side. The Twin Towers, before 9/11, was merely an office space development. Now, their footprint has been transformed into a sacred place that influences everything that is developed around it.
It is not just the numbers. It is also about the technical knowledge and the street smarts that go along with them. Anyone can go to school for finance or be a quantitative genius. But if you do not have a sense of creativity, know use of space, have a feel for the market, understand how to program space to the consumer experience or have a grasp on all of the terminology and jargon involved from the top execs down to the concrete masons, you will have a very hard time seeing the big picture of a project or the ability to push it through from concept to reality.
After a fast-paced thrill ride in NYC, our brief trip had to come to a close. We returned to the hotel where, at 11pm, we once again boarded the bus for an overnight ride back to our Alma mater. As we crossed over and out of Manhattan, I looked back at the skyline twinkling against the backdrop of a black draped curtain of sky. I had barely slept much the entire trip. It is truly a city that never sleeps. I love to visit NYC and I cannot wait for the next opportunity. This was certainly both an educational and cultural experience, one that perfectly defines what the "MBA Experience" should be.
---
Archive Link to article: https://web.archive.org/web/20131005111404/http://blog.wmschoolofbusiness.com/reach-for-the-sky-real-estate-cam-and-the-mba-experience-in-nyc/