ORANGE COUNTY – The University of Central Florida, along with the rest of the public universities in the state, are looking to legislators for $3.5 million in fast cash to be injected into efforts to beef up security on campuses statewide. In the wake of the recent Virginia Tech massacre, new approaches are being considered to secure the campus and its community from similar events.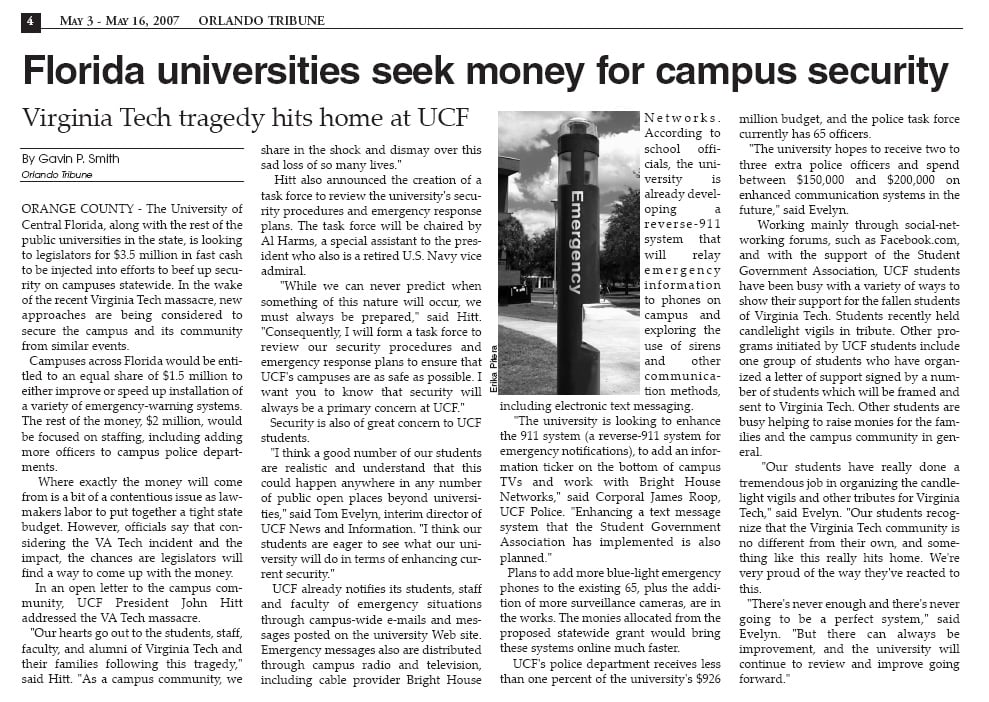 Campuses across Florida would be entitled to an equal share of $1.5 million to either improve or speed up installation of a variety of emergency-warning systems. The rest of the money, $2 million, would be focused on staffing, including adding more officers to campus police departments.
Where the money will come from exactly is a bit of a contentious issue as lawmakers labor to put together a tight state budget. However, officials say that, considering the VA Tech incident and the impact, that chances are legislators will find a way to come up with the money.
In an open letter to the campus community, UCF President John Hitt addressed the VA Tech massacre.
"Our hearts go out to the students, staff, faculty, and alumni of Virginia Tech and their families following this tragedy," said Hitt. "As a campus community, we share in the shock and dismay over this sad loss of so many
lives."
Hitt also announced the creation of a task force to review the university's security procedures and emergency response plans. The task force will be chaired by Al Harms, a special assistant to the president who also is a retired U.S. Navy vice admiral.
"While we can never predict when something of this nature will occur, we must always be prepared," said Hitt. "Consequently, I will form a task force to review our security procedures and emergency response plans to ensure that UCF's campuses are as safe as possible. I want you to know that security will always be a primary concern at UCF."
Security is also of great concern to UCF students.
"I think a good number of our students are realistic and understand that this could happen anywhere in any number of public open places beyond universities, said Tom Evelyn, Interim Director of UCF News and Information. "I think our students are eager to see what our university will do in terms of enhancing current security."
UCF already notifies its students, staff and faculty of emergency situations through campus-wide e-mails and messages posted on the university website. Emergency messages also are distributed through campus radio and television, including cable provider Bright House Networks. According to school officials, the university is already developing a reverse-911 system that will relay emergency information to phones on campus and exploring the use of sirens and other communication methods, including electronic text messaging.
"The University is looking to enhance the 911 system (a reverse 911 system for emergency notifications), to add an information ticker on the bottom of campus TVs, and work with Bright House Networks," said Corporal James Roop, UCF Police. "Enhancing a text message system that the Student Government Association has implemented is also planned."
Plans to add more blue-light emergency phones to the existing 65, plus the addition of more surveillance cameras, are in the works. The monies allocated from the proposed statewide grant would bring these systems online much faster.
UCF's police department receives less than one percent of the university's $926 million budget, and the police task force currently has 65 officers.
"The university hopes to receive two to three extra police officers and spend between $150,000 and $200,000 on enhanced communication systems in the future," said Evelyn.
Working mainly through social-networking forums, such as Facebook.com, and with the support of the Student Government Association, UCF students have been busy with a variety of ways to show their support for the fallen students of Virginia Tech. Students recently held candlelight vigils in tribute. Other programs initiated by UCF students include one group of students who have organized a letter of support signed by a number of students which will be framed and sent to Virginia Tech. As well, other students are busy helping to raise monies for the families and the campus community in general.
"Our students have really done a tremendous job in organizing the candlelight vigils and other tributes for Virginia Tech," said Evelyn. "Our students recognize that the Virginia Tech community is no different from their own, and something like this really hits home. We're very proud of the way they've reacted to this."
Corporal Roop had his own reaction.
"My own personal feeling is sadness," said Roop. "Sadness as to why someone would want to kill themselves and kill several other innocent people in the process."
If legislators move quickly, the additional funding requested by the Florida university system could be approved prior to the end of the current legislative session on May 4th. Dispersal of the funds could begin shortly thereafter.
"There's never enough and there's never going to be a perfect system," said Evelyn. "But there can always be improvement, and the university will continue to review and improve going forward."