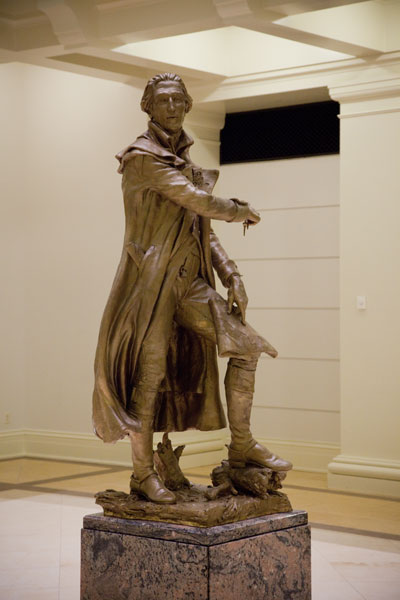 Subject: Orientation Keynote
Date: August 14, 2012
Audience: Incoming William & Mary Mason School of Business Class of 2014
Dean Pulley, Faculty, Staff, and Executive Partners…good evening.
Class of 2014 – Welcome to the Mason School of Business!
It is both an honor and a privilege to stand before you tonight and welcome you to this amazing community. If you are anything like I was when I started, you are probably sitting there feeling a million different emotions and asking yourself a million different questions:
"Did I make the right choice?" (I know that if Amanda Barth were here she would of course shout "without a doubt");
"Is this worth the sacrifices I have made to get here?" (absolutely);
Or maybe a few of you are thinking "did they make some sort of mistake…how did I get this lucky?!" Rest assured, each and every one of you are here because you deserve to be, and because you bring something new and exciting to this diverse learning community.
So welcome!
When Carlane asked me to speak to you this evening, I began wondering what advice would have been most useful to me during my first year. After a lot of reflection, I would like to take a few moments to dig deeper into our theme this week – connection. The connections you make at Mason will have an extraordinary and unexpectedly transformative impact on your lives, beginning today.
Your time here at Mason truly is about 'connection'. Your first year experience will make you stronger, more confident, and by virtue of this…you will begin to extend and expand your horizons, take on bigger challenges and connect to purpose.
Looking back on the connections I've made over my first year, as well as their impact, four words come to mind:
Community
Career
Development (Professional & Personal)
Transformation
These words embody my experience at Mason. Let me explain.
Community
I came to MASON expecting an education. I will leave with so much more. Look around you. The people sitting in this room will be your friends, your colleagues, and perhaps most importantly, your DA or Finance partners. Let's also not forget Professor Foster's Accounting class! Seriously, don't hesitate to call upon them when you need to — personally or professionally. They will be your best source of support and they will help you make the most of your experience here.
When milestones are accomplished, there is always someone around to go with you to the Green Leafe and celebrate. When it's time for your first professional presentation, your exams, or even the "job talk," there will be an endless number of people willing to connect with you, listen to you practice, provide you with feedback, and help you fight with your bullets in Powerpoint (it will happen!).
And if life throws you a curveball, the entire community will rally around you to offer support, guidance, and a shoulder to cry on. That's the power of connection that drives our community.
Career
The connections and relationships you develop with the faculty, staff, executive partners and your fellow students will also help you build your career. You are all here because you want to become the movers and shakers of the future. You are here because you wish to connect to your purpose. I urge you to make this happen by connecting with new people, tapping into new resources, and engaging proactively in the MASON community. The benefits will follow you forever.
Development (Personal and Professional)
I, like many of my colleagues, have grown tremendously at MASON. I remember my first day of orientation; I sat at a table (that one on the right) with 4 others that comprised our Team, Team 8…the Ocho. I began to wonder if I could cut it with some of these folks. At our table was a feisty, analytical genius from the Dominican Republic, a former officer on a nuclear submarine for the U.S. Navy who exuded character and discipline, a former federal circuit court prosecutor that had never, ever lost a case in her career (and if that's not enough, a former model as well!), and a quiet marketing guru from Taiwan. And then there was me…a little nervous, a little reserved, but full of curiosity.
Although I worked in media for years prior to joining the Mason Community, I didn't like to speak in class at first, and at times felt like my ideas or comments were not quite "original enough".
Just one year later, I stand before you as an illustration of how MASON connects you to professional growth and development. I no longer have a problem stating my opinions, challenging my peers, or questioning my professors. And I've only had a few nightmares about giving this speech! Thanks Bob Stowers!
I feel more than prepared to meet any challenge head on, I am accountable for my actions and accountable for my peers. I lead by example, connect to any audience, and communicate with purpose. And in a year or so, you will too!
Transformation
I arrived at the Mason School convinced that I was here because "I didn't know what I did not know". I wanted to fill in the missing pieces and ascend to the next level in my career.
Little did I know that just one year later, I would discover that I knew a lot more than I had realized. I only needed to see it for myself. This program revealed that to me. Not only would I excel in my coursework, but I would also:
Work with classmates to create the new Media and Entertainment Club
Utilize my media and creative talents to assist classmates and community organizations with their projects
Connect with political figures, business dignitaries and visiting speakers
Develop the a new social media and web strategy for our Washington DC alumni alliance
And be called to humbly serve as the elected President of my class
With each new opportunity, I grow stronger and more confident in utilizing my skills and abilities. Reach for opportunity. You owe it to yourself to embrace growth. In the process, I have discovered new passions and interests for my professional future. You will as well.
Some of you may have already identified your passion, arrived knowing exactly what you want to study, and intend to stay focused on that topic. I think that's great. But I also encourage you to be open to new ideas, experiences, and directions. You are learning from the greatest in the field, with the best and the brightest surrounding you. You will undoubtedly be challenged to think about new topics or view old topics in a new ways. Embrace that challenge. Encourage your peers to do the same.
For some, your point of view on leadership, values and ethics may fundamentally change this year. For others, those may solidify strongly. I urge you to be open to change. You never know when exposure to something new might pique your interest. Allow the transformation to take place so that you will, indeed, connect your passions to purpose.
Conclusion
Community, Career, Development and Transformation…
I urge you to take advantage of the connections that will impact you in these four areas. You will be given many tools, but it is up to you to utilize them to their full potential. This is a significant time in life for each of you. Take it seriously, take advantage and seize the opportunity. Go "all in" for the overall MBA Experience. Do not miss out, as your time here will be short. I know I will also be saddened next year when I leave this amazing community of scholars and friends behind. But I am confident that the connections built here will remain for a lifetime.
In sum, make this an incredible experience through connections…
Share your knowledge and skills; don't keep them to yourself.
Challenge yourself and your peers on a daily basis.
Embrace one another and your passions.
Absorb everything!
Be professional at all times – consider this the dress rehearsal for your next step in life
Above all, enjoy the experience
Oh, and I suggest you take the time to stroll through the Wren Building and connect to the school's cherished history…you won't regret it.
I'll close with this. There's an old saying…
"Show me the perfect car, such as a Rolls Royce. Take one wheel off, and nothing else works." Our community is truly special, but it does not work without you. You are now a crucial part of it. Your peers are counting on you to give fully of yourself to it.
Best of luck to each and every one of you, and I look forward to "connecting" with each of you in the days ahead.
Thank you for choosing the Mason School.
Welcome Class of 2014!
---
Comments & Reviews:
Dear Gavin,
I have heard so many welcoming speeches in my lifetime. Most of them go in one ear or out the other or cause the eyes in the room to glaze over. Your speech was the exception to that rule. Your message was delivered like a pro and your theme was so focused and appropriate for our students. As I looked around the room, our class of 2014 was riveted on your words and on you. Having already "met" over a third of the incoming students, I know that they were so impressed with your speech and what a role model you are for them. I was so proud to have you address our new class and so impressed with your message.
Best wishes for a great year in your new position. You certainly are off to a dynamite start.
Best,
Sue Coffman
Susan Coffman | Career Advisor, MBA CareerPREP
College of William and Mary | Mason School of Business