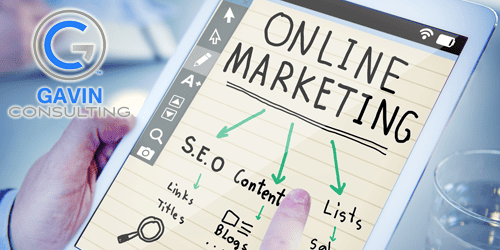 In the world of digital marketing, there are a lot of people out there that call themselves consultants that simply peddle myths vs. reality in order to make a quick buck. We often find when meeting new potential clients that they've often had bad experiences or are highly skeptical of digital marketing because of working with individuals or fly-by-night firms that tell them what they want to hear rather than deliver.
At Gavin Consulting, we don't tell you what you want to hear to get the quick buck. We never approach potential clients with this mindset. We look at each client as an opportunity to embrace a new partner and investment. We want to work with you to understand your business from the inside out and help guide you in utilizing the best methods in media, marketing and management that get results. Our investment of time and energy into your business and the results are a direct reflection on us and our capabilities. Through your continued ongoing success and growth, we prove ourselves day in and day out. Through our consistent and long-term relationship with you, we provide a trusted source and go-to for the critical needs of your business so that you can focus on the bigger picture of growing the business rather than being bogged down in it.
I read an article recently on Entrepreneur.com that listed out a few myths of digital marketing. I thought the list was a good start and wanted to personally address each and give you our take. The author listed the following five myths (I'm sure there are many more out there):
Digital marketing is only for big businesses
Results are instant
More traffic equals more money
We need to be on every social platform
Email marketing is spam
Digital marketing is for everyone, no matter what the business size. You do not need a big-business budget to be successful. If you are strategic with the right tailored approach, you can acquire new customers via digital marketing for your business no matter what its size. Besides, in today's new world of online e-commerce and user habits, web use is at an all time high. Even so, some 40-50% of traffic now is all mobile. If you're not using digital marketing to reach both web and mobile traffic, you're leaving money on the table. The key to marketing is to go where your customers are and get in front of them. The marketing channels that you choose are dependent on this fact.
By the way, as with anything in life, nothing is instant. In our world of instant gratification, we think we can just pour money into digital marketing and all of a sudden everything will happen tomorrow. It takes time and constant analysis to track down where your customers are, which channels provide the best reach, and how much investment gives you the desired result. Unfortunately, we hear from a lot of clients that have been sold the "Field of Dreams" approach, only to find out later that it takes a lot more than simply "build it, and they will come".
We also hear from folks who have been told by some marketers that if you just spend more money, you'll get more traffic. We call this the "just add water" falsehood. Do you know that there are hundreds of potential marketing channels (both online and off) to choose from? If you do not choose wisely, you'll pour a lot of money into the wrong places fast and yield no return. Once you do pick the right channels to reach your customers, however, you also need to have the right methods to capture traffic and leads. Without a well-thought out marketing funnel to guide incoming new potential customers to successful conversion, you could very well be flooding plenty of traffic to your site only to get nothing from it.
To the last two points, we simply say this. You do not need to be on every social platform. As we've already mentioned, it depends on where your customers are and not all of your customers are on every single marketing channel. Again, choose wisely. Regarding email marketing, this is a very common myth. The facts, however, show that email marketing by far remains the most effective digital marketing tool in the box. In fact, other than organic search, it remains the top performer that yields the best ROI. As proof, here's a handy infographic from Marketing Land based on a recent study of effective digital marketing channels:
For the full article from Entrepreneur, click here.
Are you ready to grow you business with an effective media and marketing strategy? Do you want a partner that can help you find the most effective ways to reach your customers that yield the best ROI? Gavin P. Smith Consulting is here to help. Contact me now for details.