Recently, I had the honor of being invited to attend the Forbes Reinventing America Summit in Chicago.  The summit is a one-day conference bringing together some notable figures across the spectrum in a mix of one-on-one interviews and panel discussions.  Some of the diverse topic titles included "The Future of Making Things", "The Skills Gap", "Betting Big on the Heartland", "The Digital Factory" and "The Rise of the Rest".
A few of the headlining attendees included:
Harold Hamm – Chairman & CEO of Continental Resources
Steve Forbes – Chairman & Editor-in-Chief of Forbes Media
Steve Case – Chairman & CEO, Revolution; Co-Founder, AOL; Chairman, Up Global; Chairman, The Case Foundation
Bruce Rauner – Governor, State of Illinois
While each of these were outstanding in their own right, the real heart of the conference and the information gleaned came from many of the other 30+ speakers and guests at the event.  Here are a few photos.  After the photos, read more about specific notes, takeaways and personal stand-out moments.
Panel: The Future of Making Things
One of the members of this panel was Samantha Snabes, CEO of re3D.  With an already extraordinary background that includes work with NASA, Snabes has staked a claim within the fertile Austin, TX hotbed of start-ups in the large-scale 3-D printing space.  She also mentioned getting some initial funding from Start-Up Chile, a government supported initiative in Santiago that provides up to $40k to seduce selected start-ups to launch in Chile.  The panel discussed ways to utilize 3-D printing, including recycled source materials, the possibility of using trash as a printing material in the future, revising source inputs and making new raw materials (for example, creating magnetic stainless steel when passing through the print process) and the vast untapped potential of the market.  Another hot topic was the potential utilization of 3-D printing strategy teams to evaluate the manufacturing process of companies to determine what parts of a process could be 3-D mass replicated in order to create better efficiencies in production.  In addition, other areas of innovation include developing communication capabilities, software and apps for a more connected 3-D printing approach.  Yet, nearly every panelist agreed that educating the market on 3-D was the biggest challenge still.  Many simply think of 3-D printing as a hobby or for small toys or trinkets, not in terms of the potential scale and innovations for which it can truly be utilized.
What I also found fascinating was the concept of "near-shoring".  Near-shoring means that parts could be made in the future close to the materials source thanks to 3-D printing.  This trend reminded me of the local food concepts such as farm-to-table that have become the trend in society as of late.  In the same way, 3-D printing could empower local, more rural, source material markets and fuel growth.
Interview: Polaris VP Steve Menneto
This was one of the more fun interviews that included the unveiling of the new Indian motorcycle.
In addition, Menneto talked about the changing landscape of competition in the motorcycle manufacturing industry and, in particular, the innovations that are coming.  Of note, Menneto mentioned that many of the luxuries found in automobiles are being developed for motorcycles.  These include creating and integrating motorcycle airbags, wi-fi and other combinations of safety and luxury additions.
Interview: The Face of the American Dream – Harold Hamm
Setting aside political views or ideological positions regarding the oil and gas industry, Harold Hamm is, of no doubt, an impressive story of rags-to-riches in America.  Hamm, now the multi-billionaire Chairman and CEO of Continental Resources, started out as the last of 13 children born to sharecroppers in rural Oklahoma.  From very humble beginnings, Hamm followed his early passions he developed for energy production while hanging around oil workers and working in oil fields as a teenager.  At age 21, he launched his grassroots energy start-up, Continental Resources, and subsequently grew it into an NYSE-traded, top 10 producer of petroleum liquids in the US.  He's now on a mission to make the US energy independent within the next decade.  One of the people sitting next to me was very enthusiastic about the story of Harold Hamm and, I think, summed it up nicely.
"He always bet big on everything.  He gambled big, won big and kept on gambling big every time."
There's some grain of inspiration in that, given Hamm's beginnings.  My view is that if you come from nothing, you have nothing to lose.  Why not gamble big and just let it ride? What if more of us did that in life?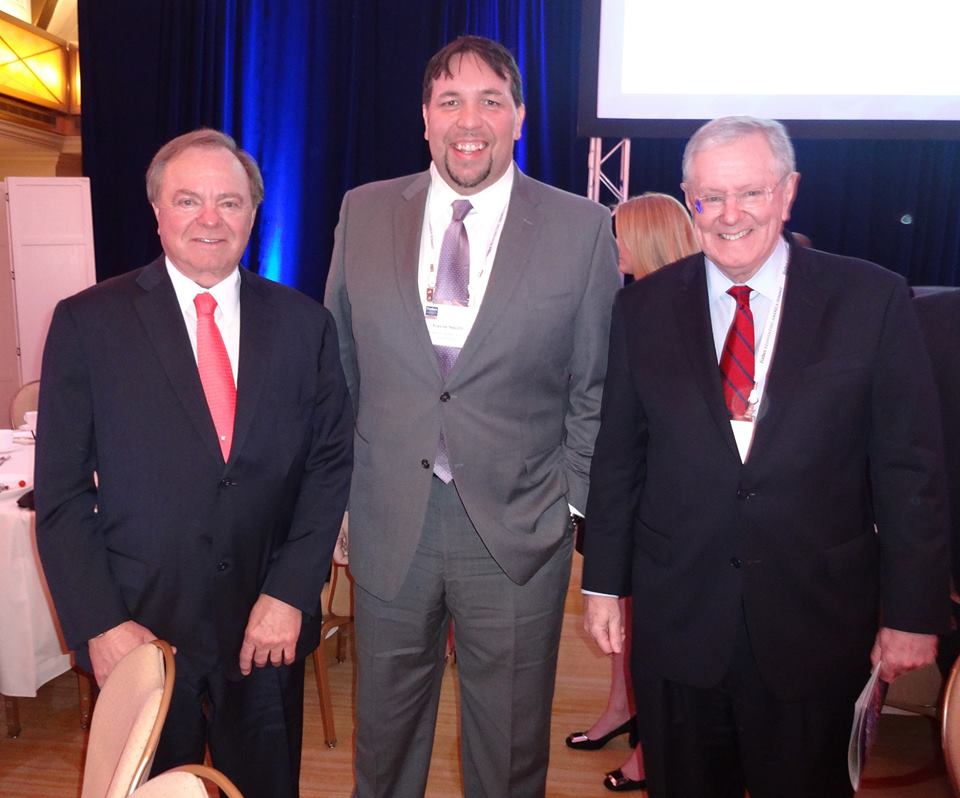 Panel: The Digital Factory
I found this to be a very interesting discussion about where manufacturing was going in terms of being retrofitted with digital efficiencies.  For example, the panel discussed that there would be a growing need for developing a fresh, bottom-up, apps-based structure for manufacturing to replace the older top-down, heavy, inflexible and expensive old software structure that is currently in place.  New sensors, connected apps and other innovations would slowly transform manufacturing from a skills-based industry into an information systems/information tech, knowledge-driven industry.
Interview: Rise of the Rest – Steve Case
Steve Case has been on tour.  Not a speaking tour but a growth and investment tour.  He is touring the country holding start-up events and giving the winners in select cities in the heartland $100,000 to finance their dreams.  He's no stranger to entrepreneurship.  As co-founder of America Online in 1985, Case has been involved with helping entrepreneurs for 30 years.  Many know of Case as the founding chair of the Startup America Partnership effort launched by the White House in recent years.  That partnership later merged with Startup Weekend to create UP Global.
The personal stories of Case were interesting, but it was his passion for others and their stories that shined.  His specific focus of the Rise of the Rest tour is to find cities in the heartland that often get overlooked as start-up centers.  Instead of going to New York, California or Texas, the Rise of the Rest tour hits other cities like Nashville, Philadelphia, and more.  Case believes that there are plenty of great ideas and innovations all across the US that deserve more recognition and more financial help to succeed.  I agree.  By all means, Steve, bring that tour bus to the Southeast soon!  You can park right here in the parking lot of my start-up in coastal NC anytime!
Miscellaneous
In addition to the various panels and discussions, I had the great fortune to have personal conversations with several attendees.  I want to give a quick shout out to:
John Weaver, head of Weaver Consultants Group
Serendipity equals sitting at a conference in Chicago and meeting the guy next to you who just happens to be a 25+ year expert at groundwater issues, remediation and environmental compliance. John was just the person I needed to meet, at the right time, for insights to help my non-profit Civilian Exposure. Quite a discussion was had about government lack of speed or accountability with issues turning them into bad actors, when they could have owned up and put in cheap fixes up front to solve problems and avoid the very costly health messes of their own making.  John will be a great resource for groundwater and environmental concerns.  Have a look at what he does with Weaver Consultants Group.
Kate Drane, Indiegogo
While stepping out of the conference for a quick break, I ran into a very personable and inquisitive woman by the name of Kate Drane.  Drane, who has a rather impressive background in start-ups and public speaking, was attending the conference to hunt down potential funding project partnerships and build business relationships on behalf of Indiegogo.  I can't wait to talk to her about potential Indiegogo fundraising campaigns for not only my clients, but also for Civilian Exposure!
Andrew Lange, JobsOhio
Andrew works with the governor's office in Ohio to help bring more jobs and innovation to the state.  Typical of the cliche' "it's a small world", Andrew's father just happens to be a fellow Thunderbird alumnus! If any of you want to learn more about establishing your business or exploring opportunities in Ohio, I will be more than happy to put you in touch with Andrew.

Special thanks for our brief, but fun discussions, go out to:
Samantha Snabes
Steve Case
Harold Hamm
Finally, a very special "thank you" to Steve Forbes for having me at this event.  I'll be back next year!